Disaster Prevention Guide (英語版 防災のしおり)
Don't panic, keep this on hand!
Disaster Prevention Guide
What to do in times of an earthquake… are you prepared?
| | | |
| --- | --- | --- |
| (1) DROP! | First, Get Low | Lower your posture to prevent from falling over. |
| (2) COVER! | Protect Your Head | Protect your head and neck with your hands or arms. |
| (3) HOLD ON! | Don't Move | Stay put until the tremors have settled. |
◆After memorizing the fundamental "3 Safety Actions" (DROP→COVER→HOLD ON), check "Emergency Supplies Checklist" as well as "Useful Japanese Phrases and Vocabulary". It is important to be ready for a disaster at any time.
In addition, be sure to examine your surroundings (the building structure and position of furniture, etc.) ensuring you are in a safe location, and refer back to this guide often.
In this Disaster Prevention Guide, you will also find a list of emergency evacuation shelters. Please place this in an easily accessible area of your home and use it as a reference for times of disasters.
"Don't panic, keep this on hand!" Do your part in being prepared.
Useful Japanese Phrases and Vocabulary
| | | |
| --- | --- | --- |
| Help! | 助(たす)けて! | tasukete! |
| sickness | 病気(びょうき) | byōki |
| injury | けが | kega |
| earthquake | 地震(じしん) | jishin |
| flood | 氾濫(はんらん) | hanran |
| fire | 火事(かじ) | kaji |
| rockslide | がけ崩(くず)れ | gakekuzure |
| tsunami | 津波(つなみ) | tsunami |
| city hall | 市役所(しやくしょ) | shiyakusho |
| hospital | 病院(びょういん) | byōin |
| Evacutation Shelter | 避難所(ひなんじょ) | hinanjō |
Make Preparations Before a Disaster Occurs!
If you were to have to evacuate, make sure you have adequate emergency supplies on hand.
As a family, discuss beforehand how to reach each other, where to evacuate, and have these written down in case of an emergency. A disaster could occur at any time, so it's best to always be prepared.
Family Contact Information
| | | | | |
| --- | --- | --- | --- | --- |
| Name | Date of Birth | Blood Type | School/Work Phone | Cell Phone |
| | | | | |
| | | | | |
| | | | | |
My Family's Evacuation Shelter
| | |
| --- | --- |
| Shelter Location | Meeting Place |
| | |
Emergency Supplies Checklist
| | | | |
| --- | --- | --- | --- |
| | ✓Food / Water | | ✓Valuables |
| | Canned bread | | Bankbook |
| | Canned foods | | Personal stamp (inkan) |
| | Ready-to-eat meals | | Cash |
| | Drinking water | | Insurance card |
✓Necessities

✓First-Aid Kit

✓Clothing

✓Other

Flashlight

Ointment

Underwear

Helmet

Knife

Stomach-medicine

Socks

Disaster hood

Can opener

Cold pack/patch

Gloves

Blanket

Matches

Disinfectant

Sweater

Portable radio

Lighter

Painkillers

Jacket

Extra batteries

Candles

Bandages

Sneakers

Children supplies

Rope

Band-Aids

Glasses・Contacts

Toiletries

Gauze

Towel

Cotton balls

Tissues

Scissors

Have approx. 3 days worth of food and water on hand.

(Ideally 3 liters of water per day per person)

Plastic bags

Tweezers
Household Safety Measures
Safety Measures for Inside Your Home
(1) Create a safe retreat area inside your home. … Configure the space as needed to ensure safety.
(2) Refrain from placing tall furniture near places where children or elderly persons sleep. … If an earthquake occurs during the night, it may put them in danger.
(3) Make sure furniture won't fall down in the event of an earthquake. … Close up any gaps between the furniture and the wall.
(4) Refrain from placing anything in the hallway or in front of doors that would inhibit a safe evacuation. … In the case of an emergency, exits may become blocked.
◆Place furniture in a way so that it won't easily fall over, or simply don't place it at all.
◆Install metal fittings to furniture, appliances, etc. to prevent them from falling. In addition, refrain from placing objects up high.
◆Affix shatterproof film to windows, glass cupboards, etc.
◆Take caution when dealing with fires. In case a fire were to break out, be extra careful not to place flammable objects around your home, and know where a fire extinguisher is at all times.
Safety Measures for Outside Your Home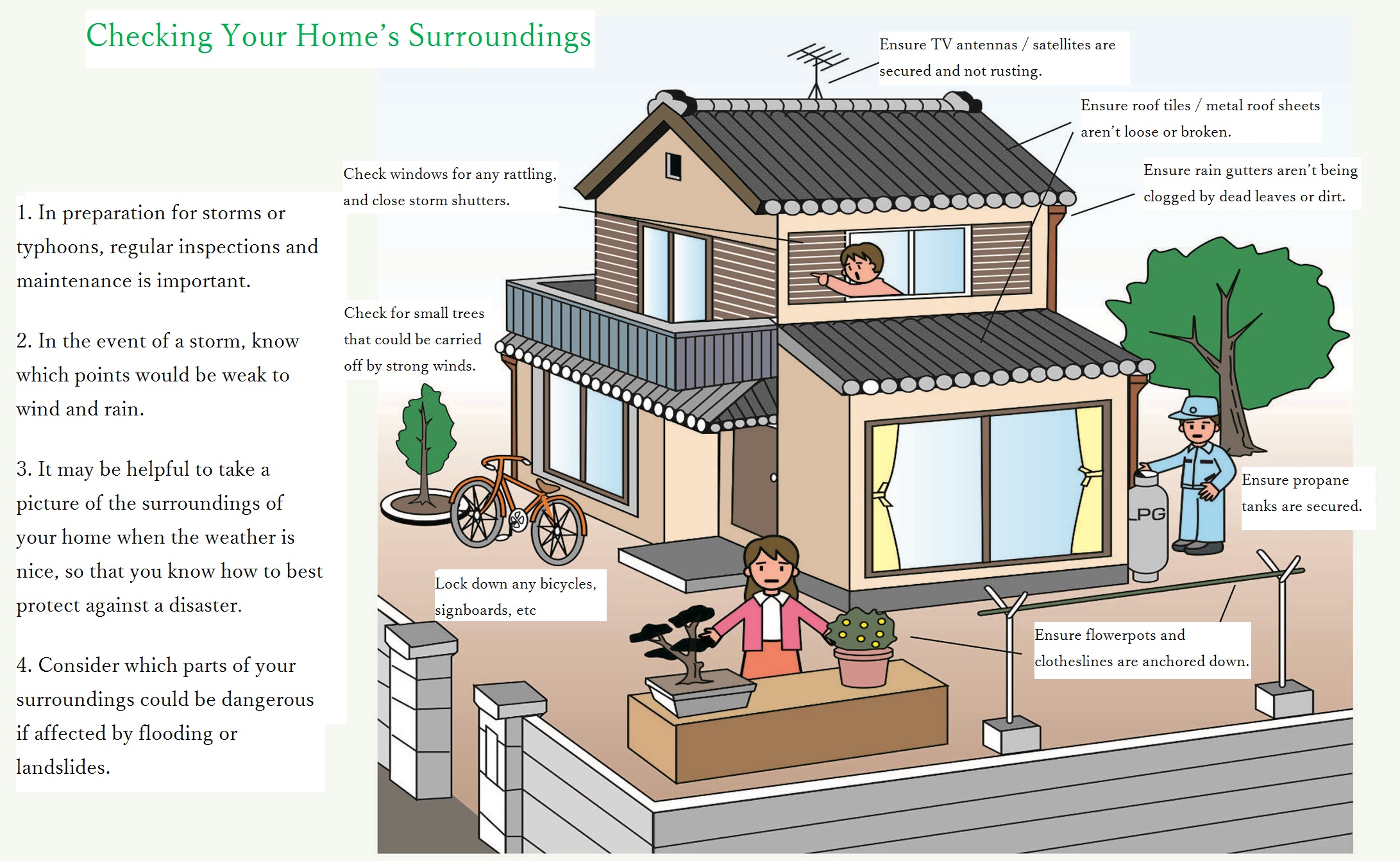 Always Remember These Evacuation Points!
A Fundamental Approach to Evacuation
Evacuate Using Your Own Judgment
In the event of a disaster, circumstances will vary from person to person. Using your own judgment, take appropriate actions and evacuate.
● If you are living in area prone to landslides...
● If you are living in an area prone to flooding...
● If there are those living with you requiring special attention, such as children or elderly persons...
Take caution and evacuate swiftly
Taking Appropriate Actions to Protect Yourself
In the middle of a dangerous situation, evacuating as best as you can in a way that guarantees your safety is top priority. In a life-threatening situation, move to the nearest designated evacuation shelter, taking necessary actions to protect yourself. These situations may include but are not limited to:
● Flash flooding in the middle of the night, making evacuation routes difficult to traverse.
● If flooding is above knee level (≥50cm)
● If flooding doesn't exceed 20cm but the current is fast.
● If flooding doesn't exceed 10cm but it is hard to make out the position of gutters, posing a tripping threat.
Moving outside can be dangerous. Depending on the level of flooding inside and the sturdiness of the building, using your own judgment, it may be safer to take shelter on the second floor (or higher) of your own home or of a neighbor's home. Remember, your life could be at risk.
3

Levels of Evacuation
Depending on your situation, evacuation may be even more dangerous!
In any case, always try to evacuate as early as possible!
1. Prepare to Evacuate・Seek Shelter for Elderly and Children
● For situations in which there is a high risk of personal injury
● For those whom it may take longer to evacuate, begin seeking shelter.
● Those who can evacuate by themselves should prepare to do so.
2. Evacuation Advisory
● For situations in which there is clearly a high risk of personal injury
● There is an official announcement for all citizens to move to the nearest evacuation shelter
3. Order to Evacuation (Urgent)
● For situations in which there is an extremely high risk of personal injury (or there are already reports of injuries)
● All citizens are to evacuate at once
● For those with only limited time to evacuate, take necessary actions to protect yourself
Public
Service
s Information
In case of an emergency, always have this information on hand in an easily accessible area.
Emergency Contact Information
Fire・Ambulance

(no area code) 119

Urgent Police Report

(no area code) 110

Kasama City Fire Department

(0296) 73-0119

Medical Treatment

Kasama Fire Station (0296) 73-0119

Ibaraki Prefectural Central Hospital (0296) 77-1121

Tomobe Fire Station (0296) 78-0119

Prefectural Mental Health Care Center (0296) 77-1151

Iwama Fire Station (0296) 45-0119

Regional Care Center Kasama (0296) 77-0034

Kasama Police Station

(0296) 73-0110

Tokyo Electric Power (Co.) Ibaraki Customer Center

(0120) 995-332

NTT Landline (if no service)

(no area code) 133 (0120) 444-113

Wireless-activated Disaster Warning System (free dail)

(0120) 996-131
※When dialing 119, remain calm, speak clearly, and state whether you are calling about an accident or a medical emergency.
Disaster Emergency Message Dial: 171
If a large disaster occurs, telephone lines may become extremely busy. During this time, phone companies will provide a "Disaster Dial Service" or "Disaster Message Board". By dialing the Message Recording number (171-1) plus your phone number, you are able to leave a message for family and friends to receive and listen to via dialing the Message Playback number (171-2).
| | |
| --- | --- |
| Message Recording | 171-1-(your phone number including area code) |
| Message Playback | 171-2-(phone number of person you are trying to reach including area code) |
! During a disaster, it may become difficult to make phone calls.

Families should have ways to reach each other by means other than telephone.
In addition, keep these following points in mind:
Safety Confirmation

◆ During a disaster, refrain from making non-emergency calls.

◆ Public telephones are generally reliable, so know where the closest one is in your area at all times.

◆ Rather than calling disaster-affected areas, it is easier to contact more distant areas. An effective strategy is to contact outside relatives and have them put together information about the situation.
Additional Disaster Prevention Related Information
Provider

Home Page URL

Ministry of Land, Infrastructure, Transport and Tourism
Disaster Prevention Information Center

http://www.mlit.go.jp/saigai/bousaijoho

Japan Meteorological Agency (typhoon info)

http://www.jma.go.jp/jp/typh

Mito Area Meteorological Agency

http://www.jma-net.go.jp/mito

Kasama City Hall

http://www.city.kasama.lg.jp

Ibaraki Prefecture Disaster Prevention・Crisis Control portal site

http://www.bousai.ibaraki.jp

Ibaraki Prefecture Public Works Division・Rain and River Water Level Information

http://www.kasenn.pref.ibaraki.jp
▼Kasama City Hazard Map (Japanese)
▼Kasama City Hazard Map Description (English)
関連ファイルダウンロード
PDFファイルをご覧いただくにはAdobe Acrobat Readerが必要です。
お持ちでない方は、左のボタンをクリックしてAdobe Acrobat Readerをダウンロード(無料)してください。
問い合わせ先
このページに関するお問い合わせは総務課です。
〒309-1792 笠間市中央三丁目2番1号
電話番号:0296-77-1101 ファクス番号:0296-78-0612