緊急・救急
Strengthening Preventive Measures (2020/11/26)
Fifteen people have previously tested positive for coronavirus in Kasama City. Within two weeks from November 13 to 26, eight more residents have been confirmed to test positive.
Although no coronavirus clusters have been identified in Kasama, the city considers this an emergency, and we call for your attention.
It will get colder from now on. However, we urge you to strengthen preventive measures while eating out, attending indoor events and meetings, and being at home or your workplace. Please make sure to ventilate rooms regularly.
We ask all residents to recognize again that the coronavirus is close at hand and to take thorough measures to prevent its spread.
Awareness of every our resident will help prevent the spread of the infection.
Shinju Yamaguchi
Kasama City Mayor
Coronavirus Cases in Ibaraki Prefecture
The number of newly reported cases within a two-week period increased 6 times.

October 25 to November 7: 67

November 8 to November 21: 399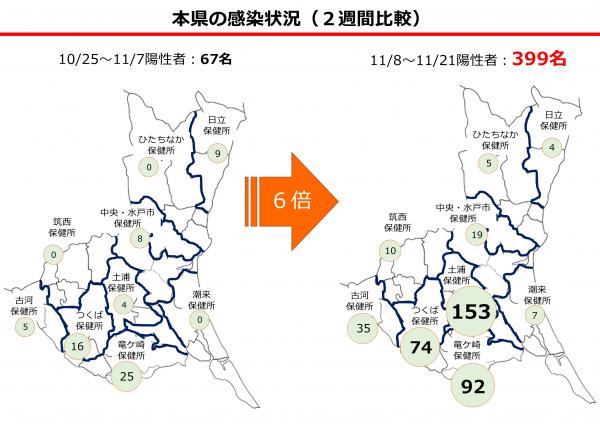 Figures in Each Municipality

As of Nov. 25

市町村

Name

Cases

土浦市

Tsuchiura City

190

つくば市

Tsukuba City

165

水戸市

Mito City

121

取手市

Toride City

100

古河市

Koga City

88

牛久市

Ushiku City

53

つくばみらい市

Tsukubamirai City

48

守谷市

Moriya City

42

常総市

Joso City

36

龍ケ崎市

Ryugasaki City

35

阿見町

Ami Town

35

神栖市

Kamisu City

30

石岡市

Ishioka City

28

かすみがうら市

Kasumigaura City

25

境町

Sakai Town

24

稲敷市

Inashiki City

22

日立市

Hitachi City

18

鹿嶋市

Kashima City

18

ひたちなか市

Hitachinaka City

16

Kasama City

15

那珂市

Naka City

13

結城市

Yuki City

13

下妻市

Shimotsuma City

13

筑西市

Chikusei City

12

東海村

Tokai Village

12

城里町

Shirosato Town

11

常陸太田市

Hitachiota City

10

坂東市

Bando City

10

小美玉市

Omitama City

9

常陸大宮市

Hitachiomiya City

8

桜川市

Sakuragawa City

8

美浦村

Miho Village

8

大洗町

Oarai Town

5

北茨城市

Kitaibaraki City

5

行方市

Namegata City

5

潮来市

Itako City

5

五霞町

Goka Town

4

茨城町

Ibaraki Town

3

河内町

Kawachi Town

3

利根町

Tone Town

3

大子町

Daigo Town

3

鉾田市

Hokota City

2

八千代町

Yachiyo Town

2

高萩市

Takahagi City

1

その他

Others

70

計

Total

1347
!
We ask for your cooperation in taking thorough preventive measures against Covid-19

Please use the Contact Confirmation App (COCOA) and "Ibaraki's Amabie-chan"

Please reinforce prevention measures at

your

workplace (teleworking, ventilating your office space, etc.)

People with an underlying health condition, those at a greater risk of severe complications (people aged 70 years and older; individuals with a chronic illness, etc.), and expectant mothers, please

be very careful

when going out.

Please stagger your New Year's vacation period

Please take extra precautions when attending events without an organizer or seasonal get-togethers that attract many people (Christmas and New Year's gatherings, etc.)

We urge you to stop any discrimination against infected individuals, their families, health care workers, and other related people.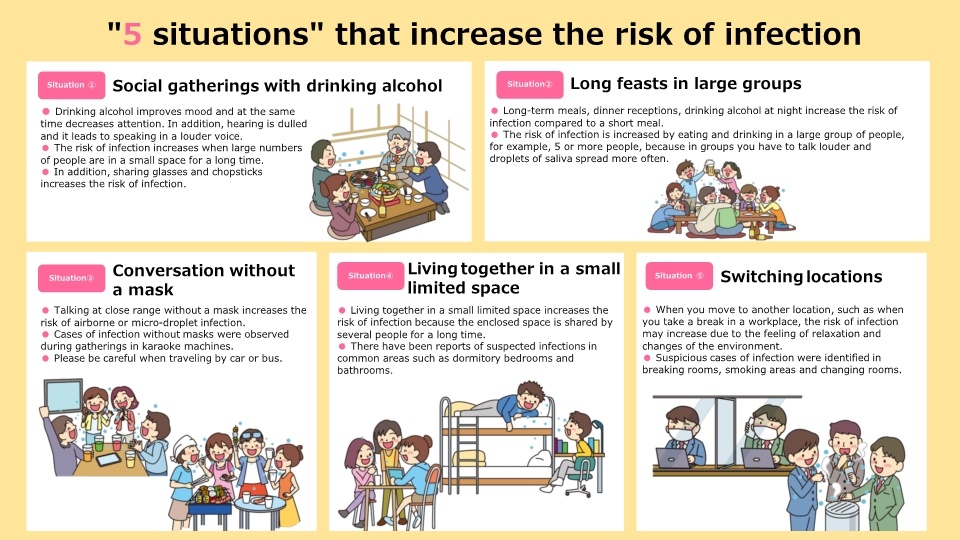 "5 Situations" That Increase the Risk of Infection (PDF)
Sanitizer Liquid Distribution (hypochlorous acid water)
Distribution Schedule: Weekdays 8:30 a.m. until 5 p.m.
Distribution Location: Entrance space in front of the Environmental Conservation Division at the Kasama City Hall Main Building
Amount: 4 liters per city resident
Please bring a clean plastic bottle with you and feel free to collect it yourself.

Contact: Environmental Conservation Division

What to Do if You Are Sick
If you have a fever, cough, or other symptoms, you might have COVID-19.
●Please first make an appointment by phone
●Please be on time for your appointment
●Please wear a mask

If you have a primary care doctor or healthcare practice
Call your regular doctor ahead and make an appointment

Medical institution

(testing and treatment)
If you don't have a primary care doctor or healthcare practice
Call the Ibaraki Prefectural Office or the Central Health Center

Referred medical institution

(testing and treatment)

Ibaraki Prefectural Office
☎ 029-301-3200
8:30 to 22:00
(incl. weekends and holidays)

Central Health Center
☎ 029-241-0100
9:00 to 17:00 p.m
(weekdays only)
Please find more information here.

Kasama City Coronavirus Related Countermeasures Fund (usage report)
Purchasing a High-Standard Ambulance (1 vehicle)
Special features: Patient monitors, interior barriers, patient isolation space
Financial resources: ¥ 32,860,000 (Countermeasures Fund), ¥ 15,597,000 (National Government Subsidy)
※Scheduled to be approved at the 4th regular session 2020 of the Kasama City Assembly.
This fund is possible thanks to the generous support of local foundations, corporations, and individual donors.

Subsidy for PCR Testing to the Elderly and People With Underlying Conditions
If you want to take a test, please call the Elderly Welfare Division.
The test is performed at your own request. One application per qualified person.
Who can apply: Asymptomatic individuals residing in Kasama City who meet one of the following criteria:
(1) People aged 65 years and older
(2) People with underlying conditions, aged 40 years and older
(※Chronic obstructive pulmonary disease, chronic kidney disease, diabetes, hypertension, cardiovascular disease)
Subsidy amount: ¥ 20,000 (You pay: ¥ 5,000)
Application period: December 12, 2020, to March 31, 2021

Contact: Elderly (Senior) Welfare Division
Useful Links
If you have any questions regarding life in Kasama, please contact the Foreign Resident Information Desk (gaikokujin soudan madoguchi) at Kasama City Hall.

問い合わせ先
このページに関するお問い合わせは秘書課です。
〒309-1792 笠間市中央三丁目2番1号
電話番号:0296-77-1101 ファクス番号:0296-78-0612